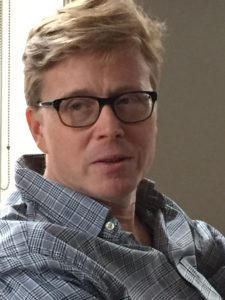 John M. Davis is a composer, music editor and sound designer/mixer. A graduate of New York University's Tisch School of the Arts, he worked as a post-production supervisor on such films as Cry, The Beloved Country; Jane Eyre; Life is Beautiful among many others. His work with composers John Barry, Rolfe Kent, Alexandre Desplat and others led John to pursue a career in film music.
His first commercial score was for the Showtime documentary Breasts, and his first feature film was the Roy Schneider comedy Better Living. At around the same time he started working as a music editor on many prominent films such as The Producers and Black Swan. He continues to work as a music editor on major motion pictures and as a mixer on various smaller projects.
An interest in silent films led John to seek performance opportunities whenever possible. He has performed at the Giornate del Cinema Muto in Italy, the Walter Reede Theater at Lincoln Center, the American Museum of the Moving Image and the Museum of Modern Art.
He is married to paper engineer and Katherine Belsey. They live in Brooklyn Heights, New York with their two boys and the lovable beagle Bacchus.
Send emails to: contact (at) johnmdavis.com